Registration open until
December 31, 2023
Access time
Accessible for 90 days after registration
Ethics hour(s) included
0 hours
Registration open until
December 31, 2023
Access time
Accessible for 90 days after registration
Ethics hour(s) included
0 hours
All learners will receive access to this course starting September 1 to study at your own pace.
ESG is a rapidly emerging critical area for businesses, and CPAs have a key role to play in helping companies manage ESG risks, comply with reporting requirements, attract investment, and maintain their reputation. This certificate will provide you with specialized knowledge and skills, enhance your credibility and add value to your organization.?
The Fundamentals of ESG on-demand certificate covers several aspects of ESG for the finance professional in six stand-alone curated courses that can be taken in any order: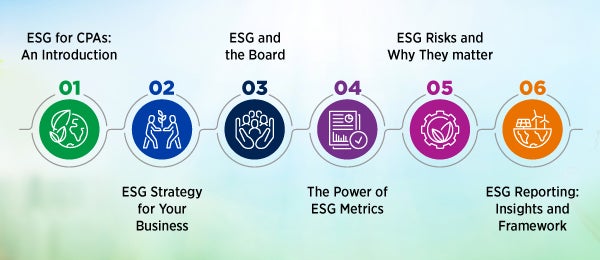 NOTE: Each stand-alone course takes approximately 2.5 hours to complete and it takes 15 hours in total to complete the full certificate.
This certificate program aims to support learners with practical, application-focused microlearning content to help them create and manage an effective ESG strategy at their workplace.
Earn a digital badge on successful completion of a mandatory assessment and prove your competency in ESG to your employer or potential opportunity. Find new opportunities in the field of ESG by adding a verifiable achievement to your social profile.
Topics Include:
Standing of ESG components and their application in business
Frameworks to build an ESG strategy suitable for their organization
Methods to select appropriate metrics and apply the right reporting frameworks for their organization
Approach to identify ESG risks and incorporate into a risk management system
Best Practices for obtaining buy-in from the Board and establishing ESG Governance
By the end of this course, participants will be able to:
Explain the role(s) CPAs and finance professionals can play in supporting organizations' ESG initiatives
Explore & highlight how ESG intersects with governance and how to integrate best practices into oversight activities.
Explain the correlations and interconnections between ESG risks and existing organizational risks
Outline steps for setting ESG goals and performance targets
Explain how to select the appropriate ESG reporting framework and standards
All CPAs and finance professionals who require knowledge on ESG (Environmental, Social, and (Corporate) Governance to support them with upskilling for their current role or for new career opportunities.
This is an online session. This course is available 24 hours a day, 7 days a week. Once registered, you can access the material at any time.
However, you will only have access to the course for 90 days after REGISTRATION/COURSE START DATE whichever comes later.
To access the course please visit our BlackBoard site, and log-in using the same login and password used for the Registration Portal.
Please allow up to 15 minutes after registration for the course to appear on your BlackBoard page.
Registration, cancellation, withdrawal and all other CPA Ontario PD Seminar policies can be found here.

Sarah Keyes, FCPA, FCA, is CEO at ESG Global Advisors and an ESG and climate change expert with over a decade of work experience as a thought leader, consultant, facilitator, and auditor. She regularly presents to Executive teams and Boards of Directors on the link between ESG and climate change with financial and operational performance and long-term value. Sarah helps her clients establish ESG and climate change strategies that align with strategic priorities, enabling effective integration with existing risk and strategy processes.
Susan Todd is the President of Solstice Sustainability Works Inc. and a trusted advisor to business, government and not-for-profit organizations. She is a valuable resource to innovators, working at the leading edge of several intertwined issues – sustainability and ESG, climate change readiness, and natural capital accounting. Susan is committed to sustainability education and development at all career stages. In 2003 she founded The Accountability Project (TAP) to deliver sustainability management and reporting training based on global standards. TAP trained more than 500 managers and executives from six continents.

Shreya Verma Mair is a Senior Associate at ESG Global Advisors, a boutique consulting firm that is driven by an informed belief that Environmental, Social and Governance issues matter and businesses that incorporate them into their decision-making stand to thrive over the long-term. Shreya has over six years of experience in advisory services, assisting clients in understanding the business impacts of climate change and broader ESG considerations. Shreya has worked with mid- and large-cap organizations, supporting clients with identifying and prioritizing ESG-related risks and opportunities (including climate) and developing strategies that align with organizations strategic objectives in order to drive value. She has deep knowledge on investor-expectations and the rapidly changing regulatory environment on sustainability-related disclosures, including climate.

Shelley Gilberg, CPA, CMA, ICD.D, is the Canadian Leader for ESG for PricewaterhouseCoopers LLP. She has spent more than 25 years in both industry and in advisory services. She has been a COO, CFO, and a Transformation executive delivering on finance, operations, technology, strategy, and innovation portfolios. In advisory services to clients she has led strategy, sales and delivery globally across several industries. Shelley brings proven experience providing clients with trusted advice to enable their most strategic and important initiatives, such as ESG. She focuses primarily on pension funds and private equity, but works across all sectors translating ESG risks and opportunities into measurable enterprise value.

Edward Olson is Leader of MNP's Environmental, Social and Governance practice. Drawing on more than 24 years of Canadian and international experience through roles in public practice and industry, Edward delivers practical and meaningful business advice to private and public sector clients. He is an accomplished senior leader with a proven track record of driving organizational success through strategic leadership and collaboration. With a wealth of experience working closely with senior executive leadership teams and boards of directors, Edward has consistently demonstrated exceptional leadership capabilities and a keen understanding of complex business environments. This now includes assisting his clients with environmental, social and governance sustainability awareness and adoption including identification, measurement, management of material topics.