Registration open until
October 30, 2023
Start date
November 2, 2023
End date
November 2, 2023
Registration open until
October 30, 2023
Start date
November 2, 2023
End date
November 2, 2023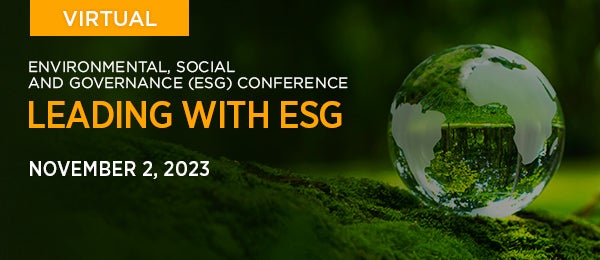 Having clear, measurable and reported ESG parameters is critical to your organization. Boards are under increasing pressure from shareholders to ensure ESG targets are met and results reported. CPA Ontario's ESG Conference on November 2, will arm you with knowledge and strategies to thrive in the evolving ESG landscape. Hear industry leaders share their experience on pressing issues facing organizations today. Don't get left behind. Lead with ESG.
You will gain insights on:
Where Canadian climate policy stands and where it's going
The best tools and resources to track sustainability
Ways to effectively manage climate-related risks
How to prepare for the implementation of climate-related disclosures
Board oversight of ESG and sustainability issues
AGENDA
TIME
EVENT
8:00 a.m. – 8:45 a.m.
Networking
8:45 a.m. – 8:50 a.m.
CPA Ontario representative welcome
8:50 a.m. – 9:00 a.m.
Host Opening Remarks: Sabreen Salman CPA, CA. Director, ESG Reporting & Measurement at Export Development Canada​
9:00 a.m. – 10:00 a.m.

Opening Keynote: Andrew Winston: Author of Net Positive

Topic: Gigatrends and the Drive to Net Positive: How courageous companies thrive by giving more than they take.

Our economy and society are healing from the pandemic, but extreme challenges remain, such as climate change and inequality. Business has the vast opportunity – along with the tools and skills – to profit from solving the world's problems, not creating them. Based on his new book Net Positive – co-authored with legendary CEO Paul Polman – this inspiring talk from renowned strategist Andrew Winston will help you navigate the seismic changes sweeping through business.

Key takeaways:

Address the existential challenges, trends, and stakeholder pressures that are profoundly changing the way business operates
Learn how to build companies that thrive and profit by solving the world's problems, not creating them
Consider what leadership looks like, with concrete examples of companies around the world profiting from sustainability

10:00 a.m. – 10:10 a.m.
Short Break
10:10 a.m. - 10:55 a.m.

Julie Segal: Senior Manager, Climate Finance at Environmental Defence ​

Topic: The Urgency of Climate Action & Canadian Policy Developments for Climate Finance​​

This session will introduce current climate science, the climate risks to Canada's economy and businesses, and provide an update on the urgency of climate action.

Key takeaways:

Discuss recent climate policy factors that affect CPAs in Ontario, like OSFI's new climate-disclosure regulation B-15
Consider how new climate policies would affect financial statements
Identify how Canadian climate finance policy compares to other global jurisdictions, and what to expect as the trajectory

10:55 a.m. - 11:35 a.m.

Professor Charles H. Cho: Professor of Sustainability Accounting and Erivan K. Haub Chair in Business & Sustainability at Schulich School of Business​

Topic: ESG and Sustainability: Accounting for Grand Challenges.

Using academic research and practice insights, Charles will explain the differences between 'ESG' and 'Sustainability' before delving into the current discussions around accountants and the role of accounting firms in addressing planetary grand challenges through social accounting. He argues that modern slavery represents a grand challenge that impacts millions of lives and is the subject of increasing legislation such as the Modern Slavery Act.

Key Takeaways:

The differences between 'ESG' and 'Sustainability'
Role of accounting profession in addressing grand challenges
Modern slavery as a major social issue

​
11:35 a.m. – 11:45 a.m.
Short Break
11:45 a.m. - 12:30 p.m.

Zlata Huddleson: Partner, IBM Consulting Sustainability ​

Topic: How Technology firms are playing a critical role in supporting Canadian businesses to drive progress in ESG reporting.​

Technology can play a critical role in improving sustainability efforts, and technology firms [like IBM] are working with organizations to align sustainability goals to business objectives, including compliance. And while organizations across Canada have made a number of sustainability and net zero commitments, many lack the tools and resources to accurately track and report on progress.

Key Takeaways:

Understand which tools and resources to invest in to improve operations and reporting
Learn how to help Canadians achieve sustainability goals and increase transparency
Consider the steps that are needed to result in a more sustainable future for Canada

12:30 p.m. – 1:15 p.m.
Lunch & Networking
1:15 p.m. - 2:25 p.m.

Panel Discussion: Moderators Jennifer Teoh, CPA, CA, Associate Partner & Munam Khan, Senior Manager Ernst & Young LLP and panel of clients including Canadian Bank leader, Pension Plan leader, mining company leader​

Panel of clients: Canadian Bank leader, Pension Plan leader, mining company leader

Topic: ESG Journey in the Finance Function ​

​

Our expert panel of finance practitioners and industry leaders will share insight from their experience in the ESG journey. Learn more about defining the reporting strategy to create long term value in the finance function, enhancing the finance operating model, building robust capabilities, and reporting with confidence.

Key takeaways:

Update on the current ESG reporting landscape in Canada, and key challenges faced by organizations, including small and medium sized businesses
Strategies to enhance governance, risk, and controls processes for effective management of climate-related risks
Insights into readiness for assurance on ESG reporting

2:25 p.m. – 3:20 p.m.

Tyson Dyck: Partner, Torys LLP

Topic: Trends in Climate-Related Disclosure

This presentation will discuss the emerging rules for climate-related disclosure, including the rules under development by securities regulators and those proposed by organizations like the International Sustainability Standards Board (ISSB).

Key takeaways:

Review the major climate change disclosure proposals have been published and are at varying stages of advancement.
Consider how the proposals are each based on the recommendations of the Task Force on Climate-related Financial Disclosures (TCFD) and cover similar topics, but the scope of each proposal differs in important respects
While final rules are pending, companies can take important steps to prepare for implementation including: developing and strengthening internal governance structures, establishing data collection processes, obtaining internal alignment on targets, reviewing existing voluntary disclosure and considering the external validation of GHG emissions data

3:20 p.m. – 3:30 p.m.
Short Break
3:30 p.m. – 4:30 p.m.

Closing Keynote - Shelley Gilberg, National ESG Markets Leader and Canadian Platforms Leader, PwC Canada

Topic: Role of the Board and ESG​

This inspiring presentation from an experienced Board Director with a primary focus on Audit & Risk and Technology & Innovation Committees, will help you better understand current ESG landscape and how to develop and implement strategic initiatives to create value by addressing ESG risks and opportunities.

Key Takeaways:

Understand the trends and leading practices in governance and accountability/operating models for ESG and Sustainability
Look at the key questions boards are asking or should be asking that management teams need to be ready for
Learn why a commitment, action, and communication framework matters to Boards and governance bodies when it comes to ESG

4:30 p.m. – 4:40 p.m.

Host Closing Remarks: Sabreen Salman CPA, CA. Director, ESG Reporting & Measurement at Export Development Canada

4:40 p.m. – 5:00 p.m.
Networking
Are you interested in speaking at one of our conferences?
Click here for our speaking proposal form.
Are you interested in being a sponsor for one of our conferences?
Click here for our conference sponsor form
.
This CPA Ontario PD conference is hosted on the innovative Hopin platform. An email invitation with a link to join the event on the Hopin platform will be sent closer to the date. We recommend you join five minutes prior to the scheduled start time.
Andrew Winston is a globally-recognized expert on megatrends, sustainable business, and how to build companies that profit by contributing to a thriving world. Named as one of the top 50 management thought leaders in the world by Thinkers50, his books have sold over a quarter million copies in a dozen languages. His bestsellers include Green to Gold, The Big Pivot, and Net Positive, selected by the Financial Times' as one of the Best Business Books of the Year.
Charles H. Cho is Professor of Sustainability Accounting and the Erivan K. Haub Chair in Business & Sustainability at the Schulich School of Business. He has worked for KPMG LLP and other public accounting firms for several years in auditing and taxation. His research interests include Social and Environmental Accounting; Corporate Social Responsibility (CSR); and Accounting and the Public Interest and has published his work in many leading academic journals.
Shelley Gilberg is the National Platforms Leader for PwC Canada, and the Canadian Leader for ESG. She has spent more than 25 years in both industry and in advisory services. She has been a COO, CFO, and a Transformation executive delivering on finance, operations, technology, strategy, and innovation portfolios. In her career in advisory services to clients she has led corporate strategy and transformation in Canada and globally across several industries.
Jennifer Teoh, CPA, CA, is an Associate Partner and EY's Ottawa Financial Accounting Advisory Services Leader. She has dedicated over a decade of her career providing finance and accounting advisory to support the CFO agenda in a wide range of organizations and industries. She has also held roles in Finance teams of large organizations overseeing aspects of external financial reporting, accounting policy, forecasting and budgeting, internal controls over financial reporting, performance measurement and corporate governance.
Julie Segal works as Senior Manager, Climate Finance at Environmental Defence, where she advances climate-related financial policy and regulation. She previously managed a portfolio of impact investments at the McConnell Foundation. Her career combines sustainable finance and climate advocacy. She's won national and global awards for her work integrating environmental justice into sustainable finance, including winning First Prize Paper in the Ethics & Trust in Finance Global Prize.
Munam Khan, CPA, CA is a Senior Manager in the Financial Accounting Advisory Services practice at EY Toronto. She has over 11 years of professional experience ranging from complex accounting and financial reporting areas under IFRS, US GAAP and ASPE to finance optimization matters, across multiple sectors including financial services, telecommunications, consumer and retail. With a deep reporting background, Munam is leading EY's ESG disclosure and reporting efforts in the GTA, supporting clients in operationalizing sustainability reporting and integrating it into their finance function.
Tyson Dyck is an experienced environmental and climate change lawyer with deep involvement in the energy, infrastructure and mining sectors, Tyson brings strategic acumen, skillful advocacy and technical insight to his work advising clients on their most complex matters. He is a Partner at Torys LLP, an international business law firm known for its sophisticated counsel, best-in-class client service and the most cohesive cross-border team in the market.